In terms of electrification, the country can be divided into grid and off-grid areas. Since independence, the level of electrification has been low in areas traditionally regarded as off-grid compared to areas where the grid network exists. Indeed, electrification in the country seemed to follow the railway line cutting across the country from Mombasa to Nairobi and in areas where most of the economic activities took place. Areas that have been far from the railway line such as Turkana, Marsabit, Mandera, Wajir, Garissa and Lamu counties came to be considered off-grid although the grid finally reached Garissa and Lamu counties in 2016.
REREC has provided electricity in off grid areas through:

Extension of powerlines from off-grid towns with diesel stations to other towns within the off-grid areas. E.g. the Turkwel – Lokichar Line

Stand-alone diesel generators/extension of power lines from diesel stations,

Solar photovoltaic (PV) systems for schools and other public facilities,

Grid based Solar Plants e.g 50Mw Garissa Solar project

Solar Mini-grids for Towns
Turkwel – Lokichar Powerline
This project was implemented as a special project to open up the second development corridor in the country through extension of the grid from Turkwel to Lokichar in Turkana County. The project involved the construction of a 120KM of 66kV Line and establishment of two sub-stations at Lokichar and Kalimungorok.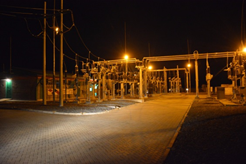 Lokichar substation at night.
Off-grid Diesel Stations
Twenty (20) isolated diesel generators have been implemented in various towns in the north and coastal parts of the country. So far, hybriding of four (4) diesel power stations with solar has been undertaken up to Takaba, Eldas, Rhamu and Laisamis power stations to improve on the affordability of power. These projects have opened these off-grid towns that were previously considered economically unviable and have resulted in the improvement of living standards of beneficiary communities in the areas of education, health, self-employment, communication and agriculture.
Solar Projects
Off grid supply has mainly been undertaken through diesel generating stations and solar PVs for public facilities. Due to the high operation and maintenance costs for diesel power stations in Kenya, REREC has opted to exploit Kenya's abundant renewable energy resource by shifting to renewable energy generation in the off-grid areas. This will ensure that Kenyans can access clean, sustainable, affordable, reliable and competitively priced electricity.
- 50MW Solar Plant in Garissa
This is the largest grid connected solar power plant in East & Central Africa. Currently this project is contributing about 2% of the national energy mix , has significantly led to a reduction of energy costs in the country and potentially promoted the development of clean, reliable, sustainable and affordable electricity. It is expected that a replication of similar projects will be implemented across the country to diversify the power generation mix.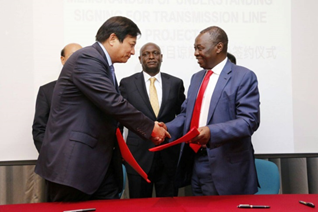 Launch of the 50MW solar power in September 2016.
The project is now operating and is generating power to the national grid
- Solar Mini- Grids
Currently, the Corporation is implementing 26 solar mini-grid projects in the off-grid counties of Wajir, Turkana, Marsabit, Mandera and Garissa. Upon completion, the projects are expected to serve in excess of 4000 households and provide other socio-economic benefits to communities living in these areas in education, health, entrepreneurship, employment, communication, water pumping and food preservation especially milk and meat products.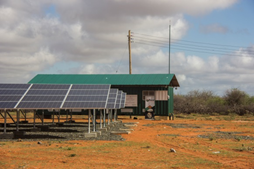 Solar mini-grid project at Biyamadhow town in Wajir South Constituency.